Alignment assessment of industry programmes with the OECD minerals guidance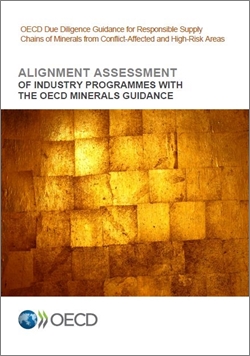 17 April 2018 - The OECD Due Diligence Guidance for Responsible Supply Chains of Minerals from Conflict-Affected and High-Risk Areas (OECD Guidance) provides detailed recommendations to help companies respect human rights and avoid contributing to conflict through their mineral purchasing decisions and practices. The OECD Guidance is for use by any company potentially sourcing minerals or metals from conflict-affected and high-risk areas.

In 2016, as part of the implementation of the OECD Guidance, the OECD launched a project to develop and pilot test an assessment methodology for evaluating the extent to which industry programmes align with the detailed recommendations of the OECD Guidance. This report presents the findings of the pilot alignment assessment of five industry programmes against the recommendations of the OECD Guidance.
Alignment Assessment Tool
Alignment Assessment Methodology
The five industry programmes assessed were:
An Advisory Group comprising the five industry programmes assessed, the European Commission and Global Witness supported the project. The group provided extensive input and feedback during the development of the methodology and during the review of this report (see final statement from Global Witness on the Alignment Assessment).
Kumi Consulting was appointed to support this assessment on behalf of the OECD (see the terms of reference).
Co-funded by the European Union
| | | |
| --- | --- | --- |
| | | |
| | | Industry initiatives based on the Guidance |