What is Responsible Business Conduct ?
| | |
| --- | --- |
| RBC is about integrating within core business the management of risks to the environment, people and society. A key element of RBC is risk-based due diligence – a process through which businesses identify, prevent and mitigate their actual and potential negative impacts and account for how those impacts are addressed. | |
The OECD Guidelines for Multinational Enterprises are the most comprehensive international standard on responsible business conduct. The Guidelines reflect the expectation from governments to businesses on how to act responsibly. They cover all key areas of business responsibility, including human rights, labour rights, environment, bribery, consumer interests, as well as information disclosure , science and technology, competition, and taxation. The Guidelines are closely aligned and complement other international standards, notably the ILO Tripartite Declaration of Principles concerning Multinational Enterprises and Social Policy and the UN Guiding Principles on Business and Human Rights.
RBC and public procurement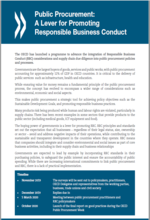 The OECD has launched a programme to advance the integration of RBC considerations and supply chain due diligence into public procurement policies and processes.
The buying power of governments is a lever for promoting RBC : they are expected to lead by example by incorporating RBC standards in their purchasing policies, to safeguard the public interest and ensure the accountability of public spending.
Find out more about the programme
RBC and climate change at COP 25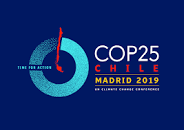 In the context of the United Nations Climate Change Conference, COP 25, find out how RBC standards and recommendations can help the call for more and better action from the private sector to address climate change.
Ending child labour, forced labour and human trafficking in global supply chains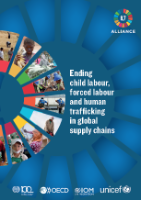 This new report, jointly authored by the ILO, OECD, IOM and UNICEF under the aegis of Alliance 8.7, represents the first ever attempt to measure these human rights abuses and violations on a large scale.