OECD Guidelines for Multinational Enterprises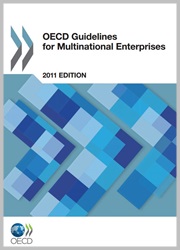 The OECD Guidelines for Multinational Enterprises are recommendations addressed by governments to multinational enterprises operating in or from adhering countries. They provide non-binding principles and standards for responsible business conduct in a global context consistent with applicable laws and internationally recognised standards. The Guidelines are the only multilaterally agreed and comprehensive code of responsible business conduct that governments have committed to promoting.
Versions
Arabic | Chinese | Czech | Dutch | English (official) | Finnish | French (official) | German | Indonesian | Italian | Norwegian | Polish | Portuguese | Russian | Slovak | Slovenian | Spanish | Swedish | Turkish
Learn more about the 2011 update of the Guidelines
Due diligence guidance
| | |
| --- | --- |
| | This guidance provides practical support to enterprises on the implementation of the OECD Guidelines for Multinational Enterprises. |
Responsible Business Conduct thematic areas
The OECD Guidelines for Multinational Enterprises reflect the expectation from governments to businesses on how to act responsibly. They bring together all thematic areas of business responsibility, including human rights and labour rights, as well as information disclosure, environment, bribery, consumer interests, science and technology, competition, and taxation. This comprehensiveness is a unique feature of the Guidelines and makes it the only government-backed instrument covering all major sustainability risks.