What is Responsible Business Conduct?
Responsible Business Conduct (RBC) is about integrating within the core of businesses the management of risks to the environment, people and society.
RBC principles and standards set out the expectation that businesses – regardless of their legal status, size, ownership or sector – contribute to sustainable development, while avoiding and addressing adverse impacts of their operations including throughout their supply chains and business relationships.
The OECD's work on RBC is delivered through the OECD Centre for Responsible Business Conduct. We work with goverments, business, workers and civil society to promote the implementation of the OECD Guidelines.
RBC and the sustainable development goals
Read about how OECD, ILO and UN instruments are aligned to provide complementary guidance on RBC (English|French)
OECD standards and tools on RBC
1. The OECD Guidelines for Multinational Enterprises are the most comprehensive international standard on RBC. The Guidelines reflect the expectation from governments to businesses on how to act responsibly. They cover all key areas of business responsibility, including human rights, labour rights, environment, bribery, consumer interests, as well as information disclosure, science and technology, competition, and taxation.
2. The National Contact Points for RBC are established by governments to promote the Guidelines and to handle cases against companies when the Guidelines are not observed as a non-judicial grievance mechanism. NCPs are a unique implementation mechanism on RBC and have supported access to remedy on a global scale by providing a platform for mediation and conciliation.
3. Risk-based due diligence, a key element of RBC, is a process through which businesses identify, prevent and mitigate their actual and potential negative impacts and account for how those impacts are addressed.
COVID-19 and RBC

The COVID-19 crisis has dramatically disrupted business and exposed major vulnerabilities in the economy and global supply chains. Responsible business conduct can serve governments and business in shaping responses to the crisis that ultimately create short-term and long-term benefits.
Latin American Caribbean Forum

7-11 September 2020 - This event brought together more than 160 panellists in 41 sessions to discuss RBC in the current difficult times and how to turn challenges into opportunities. The OECD organised a plenary session on due diligence, a side session on climate change, and co-organised two more sessions on access to remedy and informality and SMEs. This event was organised by UNOHCHR and the UN Working Group on BHR, in collaboration with the OECD, ILO and with the support of the EU, under the RBCLAC project.
Climate change and RBC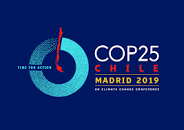 The private sector is under pressure to take more and better action to address climate change. RBC standards and recommendations can help.
Public procurement and RBC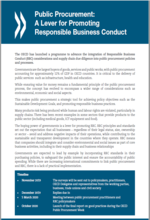 The OECD has launched a programme to advance the integration of RBC considerations and supply chain due diligence into public procurement policies and processes.
The buying power of governments is a lever for promoting RBC : they are expected to lead by example by incorporating RBC standards in their purchasing policies, to safeguard the public interest and ensure the accountability of public spending.