Guidance by sector
---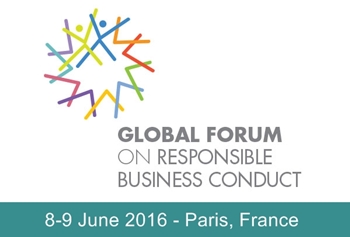 ‌
JOIN THE CONVERSATION

Translating 'Human Rights Speak' into 'Business Speak'
2016: CSR is dead! What's next?
Unlinking minerals and conflict in the Eastern Congo
Do lower taxes encourage investment?
Corporate cccountability and the UN SDGs: How responsible business conduct could and should play a decisive role
Promoting inclusive business through responsible business:
> Part 1 – Outsource production not responsibility
> Part 2 – Shared value and community-based development
When businesses are bad, who you gonna call?
Responsible gold also means supporting livelihoods of artisanal miners
Don't supply chains: responsible business conduct in agriculture
Qatar 2022: Three Rana Plazas in Slow Motion?
How to stop businesses behaving badly
Corporate leaders: Your sup‌‌ply chain is your responsibility
Corporate Social Responsibility: Emerging good practice for a new era
Ready-made garments in Bangladesh: No longer a forgotten sector


21 July 2016 - 2015 Annual Report on the MNE Guidelines
18 July 2016 - Promoting sustainable development through responsible business conduct

29 June 2016 Workshop on responsible business conduct in Kazakhstan
20 June 2016 15 years of the National Contact Points
20 June 2016 Diverse coalition commits to making human rights central to mega-sporting events
16 June 2016 EU political deal to curb trade in conflict minerals
8-9 June 2016 4th Global forum on responsible business conduct
8 June 2016 Human rights due diligence of pharmaceutical companies: An important first