Global Forum on Responsible Business Conduct
26-27 June 2014 - OECD Conference Centre - Paris

In today's interconnected world, responsible business conduct matters more than ever before, as demonstrated by the Rana Plaza tragedy in Bangladesh. One of the main barriers for seeing change on the ground remains a large gap between what responsibility means in theory and how it is implemented on the ground. Moving forward will require a practical approach - answering the "how" questions through concrete action that reinforces the ecosystem of responsibility for all actors.
This Global Forum will bring together policymakers, businesses, trade unions, and civil society to seek these answers. Special attention will be given to developments in emerging economies and challenging investment environments.

---
Key speakers
---
‌
‌

‌

MEETING DOCUMENTS‌
Draft programme outline (pdf)
2013 Global Forum Summary (pdf)


REGISTRATION
Participation at the Global Forum is open. Please register via the online registration form.
Once you have registered, your information will be reviewed and you will receive a confirmation of your participation in a separate email. Please do not make travel plans until you have received this confirmation.


VENUE
OECD Conference Centre
2 rue André Pascal, 75016, Paris
For more information regarding the venue, including a list of nearby hotels, please visit the OECD Conference centre website.


CONTACT
For any enquiries please send an email to investment@oecd.org.


Go to 2013 Global Forum on RBC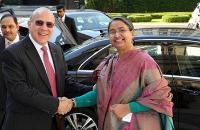 ‌‌