| | | |
| --- | --- | --- |
| We are working with partners and multiple stakeholders to ensure the widest possible dissemination of the Guidance and its active use by companies throughout the mineral supply chain (3Ts and gold), industry associations, financial institutions, and civil society organisations. | | |
Implementing the Guidance
The implementation programme aims to promote responsible sourcing and trading of minerals (tin, tungsten, tantalum and gold) through dissemination, adoption and use of the OECD Due Diligence Guidance. These actions are ultimately expected to contribute to peace-building and stabilization efforts of and within mineral-rich fragile areas and to develop innovative approaches to promote responsible private sector engagement (and where appropriate the engagement of other stakeholders) in the minerals sector that would enable economic development, poverty alleviation and peaceful coexistence between large-scale mining companies and artisanal and small-scale communities, including through the creation of market opportunities for minerals from legitimate artisanal sources.
>> Read about progress to date in the programme work plan (pdf)

Gold Implementation Programme
The gold programme of activities, launched in May 2013, brings together key players across the gold supply chain, including OECD and partner countries, implementing governments, regional and international organisations, civil society, industry and other experts.

The gold implementation programme helps foster peer-learning, constructive dialogue, and mutual understanding on due diligence practices and associated challenges across the supply chain. It also helps facilitate discussions around workable solutions to due diligence implementation, including the possible design of innovative market opportunities for responsibly sourced gold from conflict-affected and high risk areas, in particular from artisanal and small-scale sources.

While the primary geographic focus is on gold sourced from Africa's Great Lakes region, the gold implementation programme may include activities covering other regions, given the global scope of the OECD Guidance. The gold implementation programme is a voluntary exercise which will take place over an initial 12 month period, with possible extension.

Training webinars
In the summer of 2013 the OECD and industry peers held a first series of webinars designed to teach different actors in the supply chain how to responsibly source gold.
>> download webinar materials


Artisanal and Small-Scale Miner (ASM) Hub
The ASM Hub convenes numerous stakeholders to learn about ASM issues. As part of the gold implementation programme, the OECD and the ASM Hub organise webinars based on specific ASM themes.
>> read more

Gold Baseline Assessments
Work has begun on baseline studies that will identify and assess potential traceable "conflict-free" supply chains of artisanally-mined Congolese gold and to identify the challenges to implementation of supply chain due diligence.
>> read more
The 3Ts pilot implementation programme
From May 2011 to December 2012, the OECD, the ICGLR, and the UN Group of Experts on the DRC worked together on the pilot implementation of the Guidance and its 3Ts Supplement by companies sourcing minerals from Africa's Great Lakes region.

Over 100 companies, both upstream and downstream, and industry associations volunteered to take part. Participating companies have demonstrated how they perform supply chain due diligence through a peer learning process intended to help them meet reporting obligations and the expectations of managers, customers, regulators and the public.

Implementation reports
The reports identify concrete best practices and helpful implementation tools to further assist companies to respect human rights and avoid contributing to conflict through their mineral or metal purchasing decisions and practices.

---
Initiatives implementing the Guidance
Industry and other initiatives who are using the OECD Due Diligence Guidance in specific sectors or regions:

Text of the Guidance
‌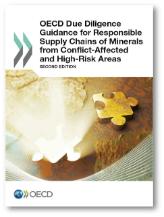 ‌
>> access text
---
Simplified guide
This guide explains the basics of upstream due diligence in the supply chain of tin, tantalum, tungsten and gold from conflict-affected and high-risk areas in Africa's Great Lakes region.
English | French | Lingala
Mandarin | Swahili

---
Five Democrats urge the US SEC to use Guidance, 23 September 2011

---
3T and gold supply chain resources
Guide to gold industry and sector initiatives for the responsible sourcing of minerals

Draft overview of audit initiatives for responsible mineral sourcing

Template and appendix for 3Ts downstream supplier letter

Illustrative list of products containing the 3Ts

---
Contact
Tyler Gillard, Legal Expert
OECD Investment Division
investment@oecd.org