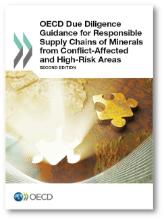 ‌The 2nd edition of the Guidance contains the Council Recommendation, the text of the Due Diligence Guidance and the Supplements on Tin, Tantalum and Tungsten, and Gold.
> OECD Due Diligence Guidance (pdf)
> Guide sur le devoir de diligence (pdf)

The Guidance was officially adopted on 25 May 2011 at the OECD's 50th Anniversary Ministerial Meeting.
> Remarks by US Secretary of State Clinton
> Statement by NGOs (pdf)
> Déclaration des ONG (pdf)

The Council Recommendation was revised on 17 July 2012 to include the Gold Supplement. While not legally-binding, the Recommendation reflects the common position and political commitment of adhering countries which include all 34 OECD countries, and 9 non-OECD countries (Argentina, Brazil, Colombia, Costa Rica, Latvia, Lithuania, Morocco, Peru, and Romania).

Simplified guide
This guide explains the basics of upstream due diligence in the supply chain of tin, tantalum, tungsten and gold from conflict-affected and high-risk areas in Africa's Great Lakes region. It does not replace the official text of the Guidance.